L'AMERIQUE FACE A SES DEMONS
PAR ROMAIN GROSMAN
Un fait divers de 1989 qui conduisit à une terrible injustice – l'inculpation pour le viol et l'agression sauvage d'une jeune joggeuse en plein New York et l'incarcération de cinq jeunes afros américains et latino innocents -, est au cœur de cette remarquable mini-série qui trouve un écho particulier dans l'Amérique d'aujourd'hui, avec le rôle joué à l'époque par un certain… Donald Trump.
Les « Central Park Five » : c'est le nom attaché à cette affaire qui a marqué l'Amérique. En 1989, dans un New York sous tension, sur fonds de violences et de viols à répétition, une jeune femme, Trisha Meili, est attaquée et laissée pour morte en plein Central Park. La police et la justice locales se saisissent de l'investigation et livrent à la vindicte une bande de jeunes, mineurs pour la plupart, sans preuve, à coup d'aveux forcés au terme d'une enquête bâclée et orientée.
Produite par Oprah Winfrey et Robert De Niro, pour Netflix, When They See Us s'attache d'abord (les deux premiers épisodes) à reconstituer minutieusement le processus qui conduit à cette injustice où le racisme et la désignation de boucs émissaires renvoient l'Amérique à ses démons. La performance des acteurs (vus dans diverses séries, The Wire, The Affair… ou au cinéma, le remarquable Jharrel Jerome révélé dans Moonlight, le seul ici à tenir son rôle ado et adulte), la mise en scène à hauteur d'homme, qui radiographie la vulnérabilité sociale objective (le manque de moyen qui conduit à prendre un avocat spécialisé dans le divorce pour se défendre d'une accusation de crime) ou subjective des protagonistes (qui pousse les jeunes à se plier à l'autorité blanche, quitte à reconnaitre des faits auxquels ils sont étrangers, par peur, par soumission à l'ordre établi), décrypte les ressorts de ces pré-établis qui assignent les uns et les autres dans le rôle que des siècles de ségrégation ont perpétué. Les deux derniers volets suivent le sort des « Central Park Five » lors de leur emprisonnement, puis à leur sortie de prison, où les murs invisibles continuent de bousiller leur existence jusqu'au sursaut.
Entre-temps, la réalisatrice exhume des extraits d'infos télévisées de l'époque où un riche homme d'affaire appelle alors à la vengeance, se paye une pleine page dans les plus grands quotidiens du pays et fait campagne pour réclamer la condamnation à mort des « cinq de Central Park » : un certain… Donald Trump.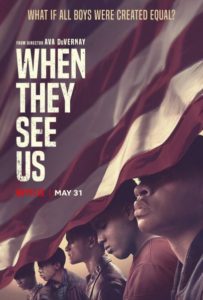 WHEN THEY SEE US
D'Ava Duvernay, 4 épisodes (de 1h à 1h30 environ) sur Netflix