TIPI ROCK
Un documentaire graphique sur le parcours des Cherokees Pat et Lolly Vegas, rockers et stars de tout un peuple. 
PAR CHRISTIAN LARREDE
Il est impossible de lire ces pages sans écouter les albums de Redbone (et en particulier leur double disque éponyme, orné d'un célébrissime os à plume), groupe angeleno et amérindien, en ce sens, cas pratiquement unique dans l'histoire du rock, et qui, à la toute fin des années 60 et grâce à un soutien actif de Jimi Hendrix, mit le feu à la planète rock grâce à des hit singles imprégnés de pop, rock , funk et rythmes ancestraux, tels « Come And Get Your Love » ou « The Witch Queen Of New Orleans ». Fan absolu du combo, le scénariste Christian Staebler (il alimente un site qui lui est consacré, et œuvre en biographe, grâce à de multiples interviews des musiciens concernés, et de leurs amis) et Sonia Paoloni ont conçu le livre comme un documentaire et un dialogue imaginaire entre l'un des leaders (Pat Vegas) et sa fille. Le graphiste Thibault Balahy signe ici un fort volume, articulé entre des planches éclatées comme autant d'instants de vie, des détournements d'images jouant avec la chronologie, et des couvertures inventées de comics, souvent dans un registre monochrome ou sépia. Mais, l'objet est plus majestueux qu'un simple album supplémentaire, puisque mettant l'accent sur le génocide subi par le peuple amérindien, et le chemin restant à parcourir, lorsqu'on visionne ces images, récentes et glaçantes, d'un adolescent pré-pubère, pro-Trump et fascisant, se moquant d'un vétéran de la guerre du Vietnam, issu d'une tribu Omaha du Nebraska. Jamais le rock et la bande dessinée n'ont, avec autant d'acuité, servi pareillement d'armes, et de mémoire.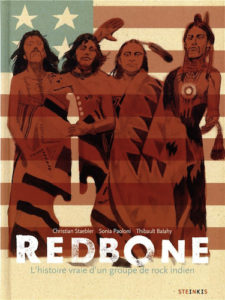 CHRISTIAN STAEBLER-SONIA PAOLONI-THIBAULT BALAHY
Redbone, l'histoire vraie d'un groupe de rock indien
Editions Steinkis, 168 pages