ROCK EN CREUSE
PAR CHRISTIAN LARRÈDE
Désormais, la Creuse ne fait plus rire. Depuis deux ans précisément, alors que le Festival El Clandestino, entraîné par Manu Chao, rameutait des milliers de festivaliers, et provoquait le plus gigantesque embouteillage que le département ait connu. Changement d'équipe et nouveau décollage, mais constante philosophie, le Check-In Party se voulant à la fois ambassadeur d'un rock alternatif et d'une ruralité bien comprise.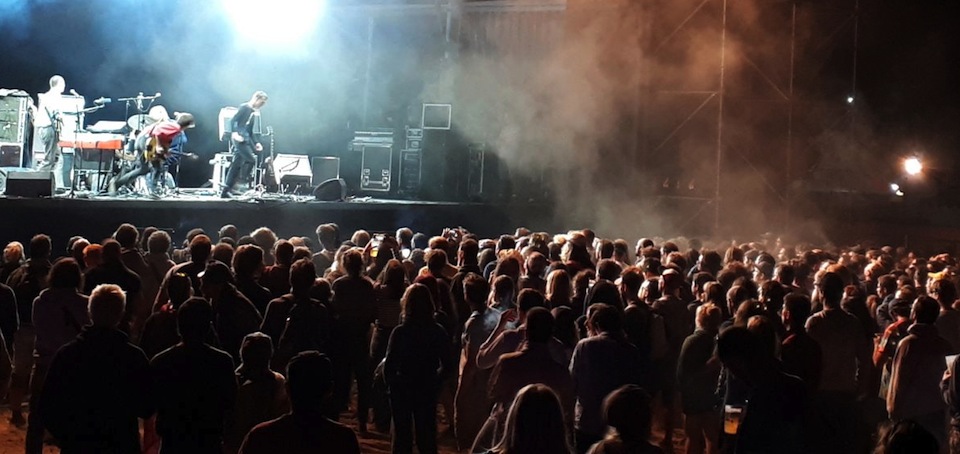 A une tête d'affiche près, on se sera donc intéressé trois jours durant à cette marge qui réserve souvent les frissons les plus intenses… ou les déceptions les plus vives. La prestation crispée de l'expérimental Flavien Berger et ses fantômes (des robots encapuchonnés et tournoyants) sera donc partiellement compensée par celle des Psychotic Monks, à l'univers innervé et branché sur un secteur dont eux seuls, dans leur transe chamanique, connaissent la phase. Les Belges de Foals, trop longtemps empêtrés dans les remugles de Depeche Mode ou Inxs, devront attendre la deuxième partie d'un set luxueux (lights et scénographie) pour atteindre l'adhésion de l'audience, alors que Gogol Bordello, faux tziganes mais authentiques bateleurs, ne chipoteront pas leurs délices de gitans pour rire. Á ce stade de la compétition, il semble évident que les new-yorkais de Bodega, invraisemblable pont jeté entre LCD Soundsystem et B52's, et qui, malgré des chiffres de vente de leur premier album – Endless Scroll -, plutôt modestes par ici, sont allés rechercher avec les dents (et grâce, en particulier, à l'abattage de la chanteuse Nikki Belfiglio) le vrai triomphe au mérite du festival. Mais, on ne le soulignera jamais assez : Check-in Party ne se résume pas à une avalanche d'heures de musique, et souhaite également se partager entre terroir et idéologie. Ainsi (la bière et les hamburgers revendiquaient fièrement une origine limousine), le festival a déployé ses fastes grâce à une première soirée exclusivement féminine, mais protéiforme : l'Australienne Julia Jacklin et ses douces ballades, ou Clara Luciani (tout le monde attendant et espérant l'explosion de « La Grenade », elle n'a pas déçu) ont caressé le public dans le sens d'un poil confortable. Le Prince Miiaou, venue en voisine de Charente-Maritime ou Jeanne Added et son electro volontaire ont servi d'écrin à la reine vespérale. Car Patti Smith, atout majeur de ces trois jours, n'a rien perdu de sa verve (quelques mots sentis à destination de Trump), ni de son sens de la dramaturgie. De quoi croire, même si pour un instant, pour un instant seulement, que People Have the Power.
Une chaleur écrasante, de la musique, bonne et excitante ou discutable, mais toujours variée, une organisation parfaitement huilée (grâce à trois scènes en alternance), des tombereaux de bonnes vibrations sans aucun incident, et le frisson de retrouver la fièvre du CBGB : en Creuse, c'est possible.
22, 23 & 24/8 – AÉRODROME DE SAINT-LAURENT/GUÉRET