« je ne suis pas une chanteuse de jazz ! »
PAR CHRISTIAN LARREDE
Avec son troisième album (In Need Of Love), elle confirme le caractère protéiforme de son talent, du funk à la pop, en passant par le gospel et… le jazz. À 57 ans, Lisa Celeste semble s'affranchir de l'ombre de sa mère, Nina Simone.
Dans l'une des chansons de votre nouveau disque (« The Reckoning »), votre musique s'autorise des ondoiements arabo-andalous. Pour ne pas être là où on vous attend ?
Un musicien est un musicien, on ne doit surtout pas le mettre dans une boite, parce que lorsqu'on est vraiment créatif, tout tourne autour de la liberté ! Je suis une artiste libre. Toute ma vie, j'ai écouté une très grande variété de musiques, et je refuse de me limiter lorsque j'écris. Je suis contente que vous ayez remarqué ce large spectre musical. Chacun peut s'y retrouver.
Cela correspond-il au choix de ne pas choisir ?
Ce n'était pas forcément mon idée principale, mais voilà : mes chansons me représentent en tant qu'artiste, en tant qu'être humain, et, comme chacun le sait, en tant que protectrice de mon héritage familial. Donc quand j'écris, avec tout ce que j'ai de plus authentique, on parle de création : ça ne concerne finalement pas la tête, mais bien le cœur.
Vous semblez éprouver désormais quelque réticence à évoquer cet héritage familial…
Je trouve ça toujours assez surprenant de voir sur quels aspects de ma vie les gens se focalisent. Ma vie a été dense, riche. J'en ai vécu plusieurs ! Mais il y a cette fascination, à vouloir systématiquement parler de mon enfance, de mes souffrances, de moments dont je ne me souviens même pas forcément ! C'est la Lisa d'aujourd'hui dont j'ai envie de parler maintenant.
Des débuts au second plan, comme choriste du chanteur Raphael ou au sein de Liquid Soul, forment-ils un caractère ?
Ça a seulement été mon parcours ! J'étais déjà leader dans Liquid Soul, j'ai été choriste pour Raphael… J'essayais de vivre mes rêves, de les réaliser pour manger, mais aussi pour faire mes armes. Toutes ces rencontres, tous ces projets, m'ont construite.
Comment mesurez-vous votre évolution, depuis votre premier album (All Is Well, en 2014) et le suivant (My World, en 2016) ?
L'ordre naturel des choses est de grandir, et de continuer à grandir. On peut faire le parallèle avec mes albums : All Is Well a été ma façon de me présenter. My World a été la suite de la conversation, pour continuer à m'ouvrir à mon public. Et maintenant, avec In Need Of Love, je sens que les liens qui m'unissent à mon public sont solides, et que je peux avoir confiance. Je suis à l'aise pour parler avec eux de choses qui me sont personnelles, qui ne sont pas toujours agréables, et qu'habituellement on ne partage pas facilement. Maintenant, je suis à un degré de maturité artistique qui me permet d'aborder des thèmes plus sombres, plus sérieux. Mais attention : même quand on aborde des sujets difficiles, ça n'empêche pas de rester joyeux et de s'amuser.
L'équipe de votre nouvel album ressemble à un all-star band !
Oui ! Bien sûr ! Mon directeur musical, co-auteur, partenaire musical et complice de la première heure est Hervé Samb. C'est un guitariste exceptionnel, qui vient du Sénégal. À la basse, Gino Chantoiseau, est originaire de l'Ile Maurice. La première fois que je l'ai vu jouer, c'était à RTL – je n'ai plus en tête le nom de l'artiste avec lequel il jouait – mais la chose dont je me souviens très bien, c'est qu'il m'a tellement impressionné que je lui ai parlé directement, après le show, en 2014 je crois. À l'heure actuelle, il fait partie de mon band et j'en suis ravie. C'est un élément fort et un bassiste incroyable. À la batterie nous avons Sonny Troupé, le guadeloupéen, qui est à mes côtés depuis All Is Well. Il est le meilleur des meilleurs, et j'adore tout ce qu'il propose. Il vient d'une célèbre famille de musiciens, et ce qu'il apporte au projet, c'est le cœur, le battement du cœur de l'équipe.
Êtes-vous désormais définitivement éloignée du Broadway et des comédies musicales de la première partie de votre carrière ?
Non. Je réalise un rêve que j'avais depuis très longtemps : partager ma musique sur scène d'une manière totalement libre. Mais je retournerai d'une manière ou d'une autre à Broadway, parce que j'ai encore des histoires à raconter…
Votre fille RéAnna constitue-t-elle la troisième génération d'artistes de la famille ?
Elle est beaucoup de choses. Je l'ai présenté au monde en tant qu'auteure et chanteuse. Peu importe ce qu'elle choisira de faire par la suite, ça sera son choix. Mais ce qui est sûr, c'est que la musique et le sens artistique coulent dans ses veines. Elle adore ça. Ça sera donc intéressant de voir, pour moi mais également pour tout le monde, quel biais elle va choisir pour préserver son héritage !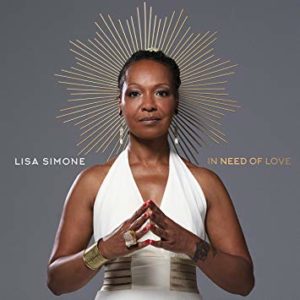 LISA SIMONE
In Need Of Love
(Elektra)