Q ON NETFLIX
PAR ROMAIN GROSMAN
A l'automne de sa vie, Quincy Jones (85 ans) continue de la brûler par tous les bouts. Une boulimie que l'homme aux 27 Grammy Awards ne sait et ne veut réfréner, malgré les accidents graves qui l'ont vu frôler la mort, à force d'excès (alcool, surmenage, voyages incessants aux quatre coins du globe… ). C'est justement après l'un de ses derniers pépins – en 2015, il frôle le pire après quatre jours de coma éthylique -, que l'une de ses six filles, Rashida Jones, entreprend de se lancer dans ce document magistral : Quincy. Deux heures pour raconter une vie qui en contient cent…
De ses débuts de jeune trompettiste de jazz chez Lionel Hampton, devenu arrangeur, directeur d'orchestre, auprès de Dinah Washington, de Sinatra, auteur de musiques de films récompensées aux Oscars, avant d'accompagner les révolutions du funk, de la pop avec Michael Jackson (les « masterpieces » Off The Wall, Thriller, du hip hop (le monumental Back On The Block, avec cinq générations d'artistes afro américains réunies, d'Ella Fitzgerald et Miles Davis à Big Daddy Kane, en passant par Dionne Warwick, Barry White, Chaka Khan, Luther Vandross ou George Benson) en se foutant totalement des avis des spécialistes en tous genres, Quincy Jones suit son instinct.
« From Bebop to Hip hop » : issu des quartiers les plus pauvres du South Side de Chicago, Quincy Jones n'a jamais, malgré les honneurs, le succès, l'argent, la gloire, laissé s'éteindre la flamme, la rage, le désespoir du gosse livré à lui-même, hanté par la présence-absence d'une mère atteinte de maladie mentale qui ressurgira plusieurs fois dans sa vie, un trauma qui le plongera dans plusieurs épisodes de dépression. Ses femmes, ses conquêtes : il les aime profondément, mais semble perpétuellement attirer par de nouvelles aventures. Comme sur le plan artistique, où les projets s'enchainent et empêchent ou retardent une nostalgie qui affleure au fil du temps. Comme lors de l'inauguration du Musée Afro-Américain de Washington, dont il pilote la soirée inaugurale en 2016, en présence du couple Obama, dans ce rôle de mentor-parrain qu'il endosse avec toujours autant de désir dans le regard, et où la galerie de portraits de ses partenaires disparus lui arrache une larme et rappelle l'incroyable trajectoire de l'enfant du ghetto qui n'a jamais oublié ses racines, le racisme de cette Amérique qui le prédestinait à mourir jeune, pauvre, un destin que lui et quelques génies de ses amis surent transcender en une irrépressible force créative qui illuminera un siècle de musique.
En voix off, ou face caméra, recueillis par sa fille, ses récits n'éludent pas la face sombre du personnage. Difficile d'imaginer un biopic, après un tel documentaire, dans le droit fil de sa poignante autobiographie, Quincy, Par Quincy Jones.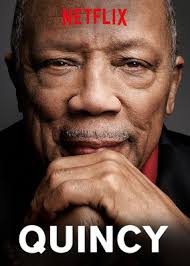 QUINCY
Documentaire, 2h4mn
Réalisation Rashida Jones et Alan Hicks
DISPONIBLE SUR NETFLIX