LA CROISERE S'AMUSE
Off The Coast Of Me (1980), Fresh Fruit In Foreign Places (1981), Tropical Gansters (1982) et Doppelganger (1983) : en ce début des années quatre-vingt, August Darnell aka Kid Creole débarque sur les ondes avec son mix de calypso, funk, jazz, jungle, et tout Paris s'enflamme pour sa revue classieuse et ses rythmes bariolés.
PAR ROMAIN GROSMAN

Né dans le Bronx, d'origine caribéenne et afro-américaine, le Kid ressuscite le baroque et la démesure d'un Cab Calloway plongé dans le son des 80's. Avec ses Zoot Suits (costumes amples à taille haute), son canotier en paille, ses choristes sexy (les Coconuts emmenées alors par Adrianna Kaegi, sa compagne, secondée par Cheryl Poirier et Janique Svedberg), ses comparses « Coati Munid » (Andy Hernandez, vibraphoniste bondissant et bouffon du Kid), et « Bongo » Eddie (percussionniste), et un live band (le batteur jamaïcain Winston Grennan, passé par Studio One) digne des grandes formations des années swing, dans un décor luxuriant (la tournée 1985 dans un faux bateau de pirates…) : sa revue embrase la capitale. Les hits se sont succédés : « I'm A Wonderful Thing, Baby », « Stool Pigeon », « Annie, I'm Not Your Daddy », « Endicott », toujours sur un mode party et fun. Mais surtout, en live, le Kid propose un show irrésistible.
En 1982, l'image a complété le son et la diffusion d'un concert au RockPalast d'Essen a mis le feu aux poudres. Et lorsque le pavillon du Tropical Gangster et de son équipage barré aborde les côtes de France en 1985, le tout Paris se presse sur cinq dates sold out. Un live au Zenith restitue l'ambiance (que le souvenir de l'Olympia de juillet en train de chavirer surpasse encore, ndlr), entre Broadway, la Caraïbe, le nuyorican funk et une bonne dose de second degré. Las, quatre ans plus tard, à l'aune d'une nouvelle tournée, alors que Paname se presse devant le Grand Rex, paré pour une nouvelle croisière, le concert est annulé. Le manager du groupe, décédé dans la journée, la tournée n'aura pas lieu. Le groupe, malgré plusieurs tentatives, n'atteindra plus jamais la folie et l'excellence de ses mémorables soirées.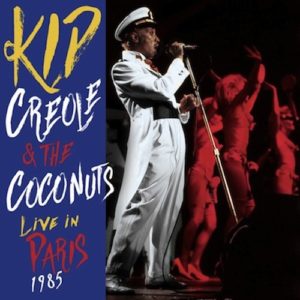 KID CREOLE & THE COCONUTS
Live In Paris 1985
(Rainman)
JUNGLE/NUYORICAN SOUL