PAR KATHLEEN AUBERT
«Là où la vie a un sens». Cette devise, c'est celle de Swift Current, la ville du Saskatchewan où Colter Wall est né et a grandi, au cœur de l'Ouest canadien. Celle que le musicien folk/country a dû avoir en tête tout au long de l'élaboration de son deuxième album, Songs Of The Plains, un disque intemporel rendant hommage aux grands espaces de la prairie et à la culture western.
Le temps de onze chansons (sept originaux, deux reprises et deux traditionnels), le jeune singer-songwriter nous emmène dans une balade à dos de cheval à la rencontre d'hommes des plaines nord-américaines. De sa voix grave et sombre, qui ne va pas sans rappeler celle du maître Johnny Cash, il raconte des histoires de cowboys d'hier et d'aujourd'hui au son de mélodies mélancoliques qu'on imagine jouées au coin du feu de camp, souvent uniquement en mode guitare et voix, avec juste ce qu'il faut de fiddle et d'harmonica (en l'occurrence celui de Willie Nelson) pour y mettre un peu de piquant. En fermant les yeux, on s'y croirait !

A seulement 23 ans, le musicien au look très Far West est déjà reconnu par ses pairs, mais aussi par des grands noms de la country comme Steve Earle, comme l'un des meilleurs talents apparus depuis longtemps. Avec Songs Of The Plains, il signe un album magnifique de simplicité, dans la grande tradition du genre.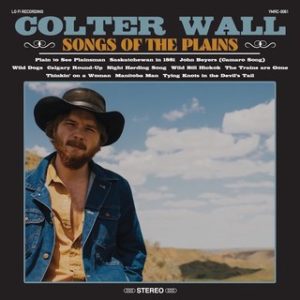 COLTER WALL
Songs Of The Plains
(Young Mary Recods Co/Modulor)
COUNTRY/FOLK