MEME PAS MORT
PAR ROMAIN GROSMAN
Le dandy originaire d'Oakland, découvert en 2015, prix du meilleur Tiny Desk cette année-là, et lauréat du Grammy du meilleur album de blues en 2017 pour The Last Days Of Oakland, revient avec un enregistrement rock. Lové dans le boudoir d'un hôtel parisien cosy, il ne tarde pas à venir sur le terrain de l'actualité aux USA, comme nombre de ses confrères que l'élection du président orange n'en finit pas de révulser. 
Please Don't Be Dead, le titre de votre nouvel album est né de votre égard sur l'actualité ?
En tournée en Europe, j'ai été interpellé par des gens, quasiment chaque fois avec la même question : « Mais que se passe-t-il chez vous en Amérique ? ». Comment, après huit ans d'Obama, d'ouverture, de paix, de rassemblement, sommes-nous passés à une idéologie nationaliste, isolationniste ? Notre pays est perçu comme une menace, parce qu'il est le plus regardé. Et, par ce titre – Please Don't Be Dead -, j'implore mes concitoyens de ne pas se résigner. De défendre la liberté sexuelle, de défendre et protéger les migrants. Si l'Amérique est grande, c'est parce qu'elle est un pays de migrants. C'est le bon moment pour être pleinement un artiste : à nous de monter au front.
D'où la tonalité plus agressive des chansons ?
Oui, je suis revenu à quelque chose d'essentiel : le riff. Comme dans le « Johnny B. Goode » de Chuck Berry. Un riff unificateur. Car dans un moment comment celui que nous vivons, il faut rapprocher les gens.
L'élection de Donald Trump a réveillé les artistes américains de tous styles.
Et les gens. Chaque soir en concert, je dis au public : « on a tous du boulot ». Ce n'est pas de la colère, car la colère n'est pas productive, c'est une énergie positive. Dans mon album précédent, j'étais plutôt dans la position d'un observateur qui regarde le monde dans lequel il vit. Mais entre temps, ce monde nous a saisi à la gorge. Et on ne peut plus rester inactif. La propagande de la haine est virulente. Puissante. On doit nous aussi se faire entendre, parler fort.
Il y a même un côté James Brown, « Soul Power », dans cette session.
Oui, parce que la soul, le rock, c'est fédérateur, ça prend aux tripes. Ca interpelle. Quand je suis aux Etats-Unis, je vais au devant de gens qui ne pensent pas comme moi. Pas pour la confrontation, ce n'est pas ma philosophie. Pour échanger, pour convaincre. Ces gens vivent dans des immeubles délabrés, dans des coins abandonnés. Leur pensée, leurs convictions sont le résultat de leur expérience. Il faut dialoguer. Ne pas mépriser ce qui conduit les gens à exprimer ainsi leur désarroi.
Le risque de la confrontation entre deux Amériques existe ?
Oui, certains l'organisent, sur les réseaux sociaux, dans les médias, y ont intérêt. Mais pour cela, il faut être deux. Il ne faut pas rentrer dans ce « cirque ». On peut être en totale opposition avec les idées de quelqu'un et s'asseoir, prendre un café avec lui.
L'actualité n'entame jamais votre optimisme ?
Non, l'existence est une expérience merveilleuse. Les épreuves, elles existent, j'en ai traversées. Je viens d'Oakland, une ville mélangée, avec des anciens communistes, des activistes, des avant-gardistes auxquels se sont ajoutés de nombreux Afro-Américains venus du sud de l'Amérique après-guerre. Cette collision a engendré les Hell's Angels et les Black Panthers. Creedence Clearwater, Santana ou Toni Tony Toné, la liberté de parler de tout. Comme le chantait Sly Stone, qui est d'Oakland : « You can make it if you try »…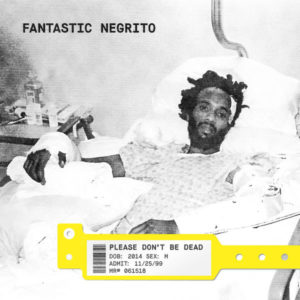 FANTASTIC NEGRITO
Please Don't Be Dead
(Cooking Vinyl)
R'N'B/ROCK
4/5